Commercial Carpet Cleaning
 First impressions are important, and office spaces are no different. A clean office gives your customers a sense of peace which can translate into trust. Whereas, a dirty facility can leave potential clients wondering if the quality of your work is reflected in your workspace. We know the importance of keeping your workspace clean, and comfortable for both your employees and customers. Our green commercial carpet cleaning products are hypoallergenic, quick-drying, and improve indoor conditions by reducing allergens. 
We will give your business a bright and refreshed look! 
Whether you are looking for a one-time cleaning, or need to set up a commercial carpet cleaning contract, Pristine Carpet Cleaning has the products, and services to meet your commercial cleaning needs. We provide professional, quality service at an affordable rate, with outstanding results. Not to mention our 100% satisfaction guarantee. 
We have been providing professional commercial cleaning in Denver since 2012.  
We stumbled across Pristine Carpet Cleaning when were looking for someone to clean the carpet at our Corporate Office, at the last minute. It was easy to get an appointment, they were on time and they did an amazing job for us at a very affordable price! We will definitely be using them again in the future! Don't hesitate to reach out to them for your carpet cleaning needs.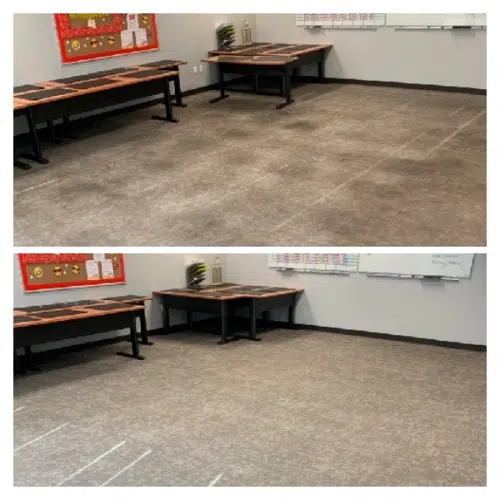 They were very easy to work with scheduling wise and very flexible. The tech text me when when he was on his way, arrived on time and obviously knew a lot about the trade. However, I could smell the tobacco/cigarettes in my house for two hours after he left which bothered me. He "cleaned the stairs" which was an extra charge but only with a hand scrub brush and bucket that our cleaning lady does and no deep clean machinery which I thought was odd and also a misrepresentation of true carpet cleaning. I wish I had seen how my sectional was cleaned, I wonder if with the same brush and bucket of water technique. Overall I'm a little disappointed in this and wish I had known it wasn't a true "steam" or deep carpet cleaning like other companies I've used.
Jessica Vaughn
2023-09-18
We have been happy customers with Pristine Carpet Cleaning since 2021. Our technician, Chris, is very professional, always on-time and communicative, and does an incredible job getting our carpets and rugs completely clean. Scheduling is always a breeze and the rates and packages are a great value. I would highly recommend Chris and Pristine Carpet Cleaning!
They showed up ready and available on time and seemed very professional. I did not use them because the management company had the place shampooed already. The cancelation fee was very reasonable. The professional was very understanding and seemed to take it in stride. I'll call them again when I need carpet and upholstery cleaning services
RJ was just wonderful! He cleaned my carpets so good and they look brand new and he also gave me some information about my carpets. I didn't know and educated me on how to keep them clean. He was very polite and did a fantastic job. I will use him again.!
We've used Pristine for years and always provide excellent service for a reasonable price. We highly recommend them.
Sharon Yonkees
2023-09-13
I've used Pristine Carpet Cleaning for years. Good prices, very helpful, and they do a very good job. Also good 30 day guarantee. What's not to love?
I am super happy with the results we got from our recent carpet cleaning. Chris showed up on time and did a thorough assessment prior to cleaning. We decided to go with a basic cleaning to try and rid the carpet of some pet stains and odors. He didn't pressure me to buy a more expensive package and did a really good job. The room, hallway, and stair landing we had cleaned already smelled and looked 100x better. Would definitely recommend.
Chris did a great job. The carpets came out better than I expected.
Chad Montgomery
2023-08-31
Very nice and friendly. Did a great job and was in and out. Will use again..
Set up a Time for an Estimate.